Art in the Barn
Art show exhibit and sale of original paintings and gift items.
May 6 and May 7, 2023
Time: Saturday 11am – 7:00pm
Sunday 12 noon – 5pm
Location: 15024 Allison Rd, Monkton MD 21111
 Join us in horse country set in a lovely private barn and surrounding lawn.
Original encaustic, oil, cold wax, acrylic and mixed media on canvas and birch wood boards. Variety of sizes from 5×5 -48×48. 
Variety of affordable gift items featuring Sandi Wilson's work such as gift cards, tea towels, coffee mugs and jewelry. 
RSVP encouraged but not necessary, earlier private viewing times available, any questions use the contact page.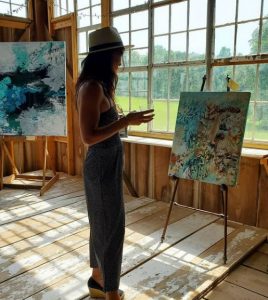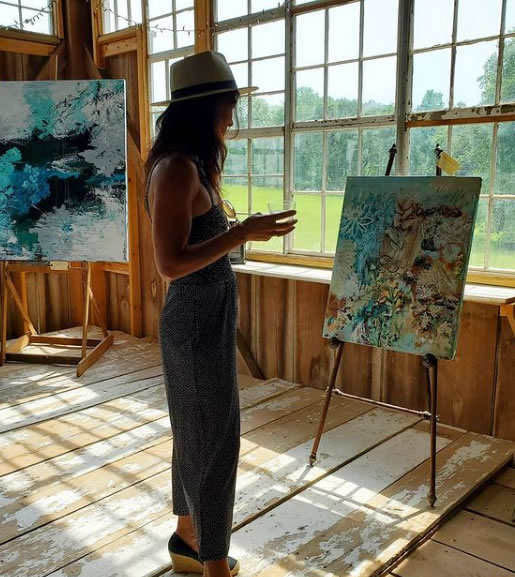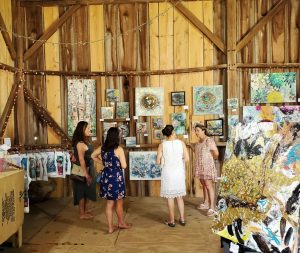 Art encaustic class in the barn
 Create a 8×8 leaf impression painting ode to Earth Day! 
 April 22 , 2023
Time: Saturday 11:00am – 2:00pm
$85.00 includes your board, all encaustic (beeswax,resin) art supplies to use and beverage. Walk around enjoying the property, pick your leaf and then learn to make impression in wax and use oil sticks to enhance.  Class is  3 hours.
Due to hot wax and use of heat guns , no one under the age of 15 permitted without a written permission form or parent/guardian accompaniment. 
Location: 15024 Allison Rd, Monkton MD 21111
  To sign up or any questions use the contact page.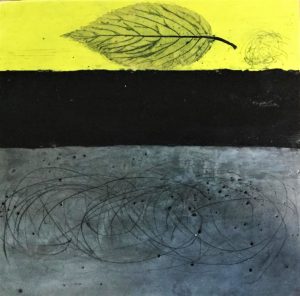 Painting plein air water color class in the Garden
Join artist Sandi Wilson in a relaxing group painting class set in private gardens with subject matter such as barns, horses, fields and architecture! 
No experience necessary, all levels welcomed.
Inquire about private painting parties and all age birthday groups!
New location on property each week or pick you spot!
Saturday Dates:
June 3th, 2023
Time; 11:30am-2:00pm
 June 17th, 2023-Time ; 11:30am-2:00pm
July 8th, 2023-Time ; 11:30am-2:00pm
July 22,2023-Time; 11:30am-2:00pm
August 12th, 2023-4:00pm – 6:30pm
September 16,2023-3:00pm-5:30pm
October 7th, 2023-3:00pm – 5:30pm pumpkins, mums, spiced rum- Oh my!
 $65.00 includes your paper/board all art supplies to use and wine/ beverage. Each class is 2.5 hours. You will learn a variety of watercolor techniques and each session will be in a new area on property inspiring you to embrace plein air (The French term plein air means out of doors and refers to the practice of painting entire finished pictures out of doors.) . 
Sign up in advance for 3 or more classes and receive a
10 % discount . You can switch your dates in a single year, feel the freedom to create !  
Location;
15024 Allison Rd, Monkton, MD. 21111
  Sign up on my contact page or send me an email for any questions and payment.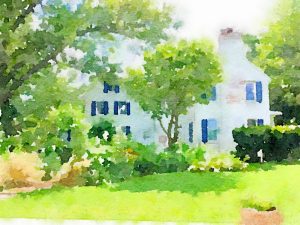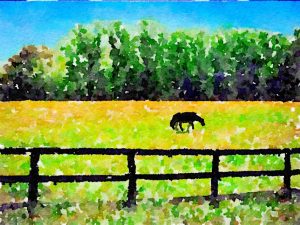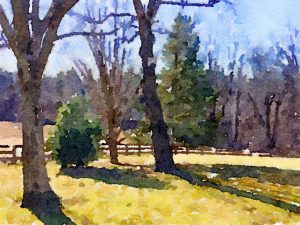 Ornament Making Class
Wood Rounds Encaustic Ornaments
2 CLASSES 1 DAY
Date: November 4th, 2023
Morning class
10am-12:30pm
Afternoon Class 12:30pm- 2:30pm
Price: $65.00 each class
Location: 15024 Allison Rd, Monkton, MD 21111
Join us in the barn to create encaustic ornaments on real wood rounds for your holiday tree or in your window year round!
Encaustic is made from Beeswax and damar resin and you will learn how transfer images into the wax and come away with 2 – 3″ 1/2 inch round ornaments for your tree, window or to give as gifts!
Just bring yourself, we've got you covered!
Sign up on the contact page or send me an email. 
Black Ankle Winery Holiday Bazaar 2023– Come visit me!
TBA
Drink wine while you shop and enjoy firepits and of course, shop at my booth! 
 Highlandtown Gallery Holiday show Nov,Dec. in Baltimore MD.  TBA
 Highlandtown Gallery 248 S.Conkling St. Baltimore MD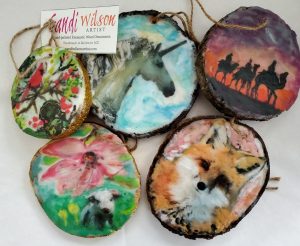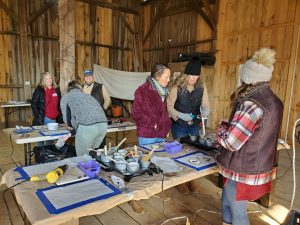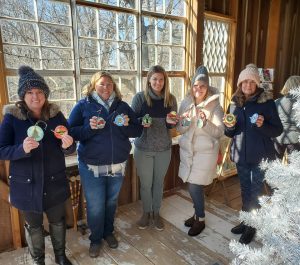 St. James Christmas Shoppe
Art show and sale of original paintings, hand painted encaustic ornaments and various printed gift items.
Date:   November 2023 TBA
Location: St.James Academy 
3100 Monkton Rd, Maryland 21111 
 Visit Sandi at her booth in the center gymnasium at the annual St.James Academy Christmas Shoppe a beloved and long standing tradition with 50+ vendors showcasing gifts, decor, toys, jewelry, furniture, art and antiques.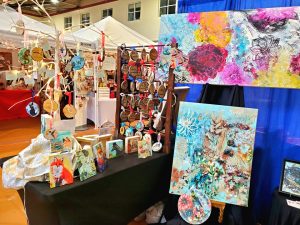 Christmas Market in the Barn
Date: Saturday December 2, 2023
Time: 11am – 5pm
Sunday December 3, 2023
Time: 12pm – 5pm
Location: 15024 Allison Rd, Monkton, MD 21111
Join us in the Barn in scenic Baltimore County for one of a kind holiday gifts made by artist Sandi Wilson and other local craftsman such as Punk Tailors and Kathey's Kreation's . Gifts such as trending fashions in wraps, scarves, throws, encaustic wood round ornaments, candles, cards, various sized paintings much more! Support your local artists and enjoy warm cider and mulled wine!
Friday early viewing times available on request Please let me know if you're coming if you can!